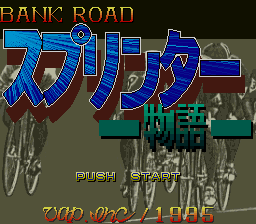 Sprinter Monogatari - Mezase! Ikkaku Senkin!!
スプリンター物語〜めざせ! 一攫千金〜
スプリンター物語 〜めざせ!一攫千金〜
バップ / VAP (NTV)
SHVC-AKGJ-JPN
1995-03-17
Sports / Bike Racing (競馬)
Description
This game is sometimes seen as Bank Road Sprinter Monogatari; this is the NSRT title.
References
Have you seen this game mentioned in a magazine? Let us know by submitting a reference! The more information you have the better, such as title, issue, volume, page, author etc...
ROM Information
Country Japan
Internal CRC FD64
CRC32 411F4D0A
MD5 FBD5F3C8BCAA5FB2065B4B3467282F5E
SHA-1 84D3155FE541939E99B5052B684379C2A17FFDAA
SHA-256 0AEBE390CC58C45AD3D8663E3F6352CC0D97AE6FE085DDD37F5229105785E121
ROM Speed 200ns (SlowROM)
ROM Size 12 Mb
ROM Bank LoROM
ROM Type Normal + Battery
SRAM Size 64 Kb
Internal Title SPRINTER STORY       
Common Filenames
Sprinter Monogatari - Mezase Ikkaku Sennkinn!! (J).sfc (GoodSNES v0.999.5)
Sprinter Monogatari - Mezase!! Ikkakusenkin (Japan).sfc (No-Intro 2011-12-24)
Sprinter Monogatari - Mezase!! Ikkakusenkin (NTSC)(Jap)(1.0).sfc (Zapatabase 2011-01-30)