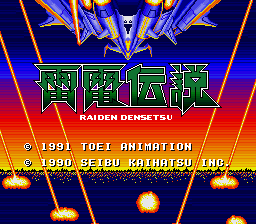 Raiden Densetsu
雷電伝説
雷電伝説
東映動画 / マイクロニクス / セイブ開発 / Toei Animation / Micronics / Seibu Kaihatsu
SHVC-RD
1991-11-29
Shooter / Vertical
Description
This is the Japanese version of Raiden Trad.
Credits / Staff List / スタッフ
Executive Producer
Miki Hirao

Producer
Shigeyuki Ikeda

Program
T. Nagaya

Map Edit
Y. Yamada

Sound
Copya System Ltd.

Special Thanks
K. Ishida
Mrs. Nagaya
Eclos

The End
References
Have you seen this game mentioned in a magazine? Let us know by submitting a reference! The more information you have the better, such as title, issue, volume, page, author etc...
ROM Information
Country USA
Internal CRC 512D
CRC32 02CE6C96
MD5 4E3A04E52DDDC4E8A676386BEA87D3AD
SHA-1 B80AB440635C149F86B7CB8AB39D19FCE2EA934C
SHA-256 5FD7666E509F9D3CF1FD6B209DC22F2F3848F74EAE7B83239D1090E031FC6DF2
ROM Speed 200ns (SlowROM)
ROM Size 8 Mb
ROM Bank LoROM
ROM Type Normal
SRAM Size 0 Kb
Internal Title RAIDEN TRAD          
Common Filenames
Raiden Trad (U).sfc (GoodSNES v0.999.5)
Raiden Trad (USA).sfc (No-Intro 2011-12-24)
Raiden Trad (NTSC)(Eng)(1.0).sfc (Zapatabase 2011-01-30)
Country Japan
Internal CRC 4854
CRC32 C352D27F
MD5 9335689FCC1720E08DDFFC8DDEC9B62D
SHA-1 E9B0CA191F599BEE60B6491F3D707C9C5B831D83
SHA-256 F92BAAF6B19522EB6399E9E8FC4AC0143AA1F27029A6DA7694903A325DB2B58E
ROM Speed 200ns (SlowROM)
ROM Size 8 Mb
ROM Bank LoROM
ROM Type Normal
SRAM Size 0 Kb
Internal Title RAIDEN DENSETSU      
Common Filenames
Raiden Densetsu (J) [!].sfc (GoodSNES v0.999.5)
Raiden Densetsu (Japan).sfc (No-Intro 2011-12-24)
Raiden Densetsu (NTSC)(Jap)(1.0).sfc (Zapatabase 2011-01-30)